5 indicators that you need a Verderflex Rollit pump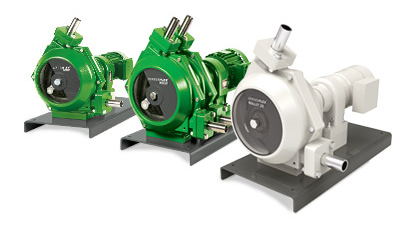 There are countless different hose pumps on the market! It's hard to keep track of them. They all seem to offer the same advantages. But the Verderflex Rollit combines many features you won't find in any other peristaltic pump. We have selected five situations for you in which a Verderflex Rollit is exactly the right choice.
1. You have to change the hose frequently
If you want to pump different liquids such as paints, sauces or even different chemicals with the same pump, there is no problem. The hose change on the Verderflex Rollit can be carried out in just a few minutes without special tools plus with a Rollit there is no time-consuming lubricant changeover or draining needed.
2. You want a pulsation-free, accurate dosing
Did you know that peristaltic pumps are ideal dosing pumps? Thanks to their functionality, they have an even, linear flow characteristic. The pump can easily be controlled by means of a frequency converter or other external controls.
A 3-roller rotor offers you less pulsation than a conventional 2-roller rotor, though if even less pulsation is required, a twin-head pump with offset rotors can also be used with the flow streams combined via a Y-manifold.
3. You need a differential pressure below 4 bar
Many pump applications are simple and require a differential pressure below 4 bar, an overkill for 16 bar rated pumps. For this reason, the Verderflex Rollit is available in 2- and 4-bar versions with the hoses optimized each working pressure. This allows us to guarantee you a long service life and at the same time a favorable hose price.
Our Verderflex Rollit hose pump is designed specifically for low pressure applications. This means that you do not need fabric-reinforced hoses and with the resultant lower torque requirements, we can use smaller motors for the same flow rate. This reduces your energy consumption.
4. You need a clean solution
Your pumped medium must not be contaminated? No problem! Because with hose pumps, only the hose meets the medium. They have no seals, packings, valves or other components that you must consider during cleaning and maintenance. We have approved hoses according to FDA CFR 21 and EN1935/2004 (EU 10/2011) for pumping food, whilst offering the highest mechanical strength and abrasion resistance.
Our Rollit peristaltic pump is a so-called "dry runner" and does not require a lubricant bath as "wet runners" do for the cooling of the hose. This means that you can be sure that no lubricant will be introduced into your process even in the event of a hose breakage.
5. You want to use the peristaltic pump flexibly
Sometimes you need a flexible pump for different locations. Therefore, we can equip your Verderflex Rollit with a mobile base plate. Sometimes, you also want to pump different liquids with the same pump, here you will benefit from the simple and quick hose change! But don't forget to confirm the hose is resistant to the pumped liquids and don't forget to clean the hose before use!
You know at least one of these situations?
Then it is time to inform yourself now. Whether a dry-running or wet-running system is the right one for your application is best learned in a personal consultation with one of our experienced engineers. We will also be happy to advise you whether a peristaltic pump or another pump technology is the best solution for you. Just fill our form for a consultation or learn more about the Verderflex Rollit in our new brochure.
Contact me about my application
Have you got any questions regarding your application for our pump expert? Do you want to know how pumps can help your process? Leave your contact details and one of our pump experts will contact you!