Mini dosing skid
Our Dura mini-packaged dosing system is a complete dosing solution - From storage and agitation of the chemical through to the monitored delivery of the fluid.
It gives access to smaller businesses who require a dosing facility but may have found the cost of a full scale system prohibitive.
The Verder Dura packaged dosing system is ideal for plants or sites requiring an effective dosing solution but on a smaller scale, such as effluent coming off a process into a holding tank before being returned to drain.
The system can operate as a long-term, small-scale dosing solution or as a mobile, rapid-response to an existing dosing facility failing. It can be a significant investment to ensure you are treating effluent from your process. The Dura mini-system also allows established dosing facilities to have a stand-by in case of break down. The system can be very quickly put in location and made operational.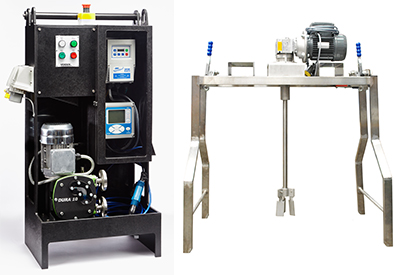 Applications
Industrial premises producing effluent and waste water streams
Temporary or emergency dosing for clean and waste water treatment works
Trial systems to be upscaled
Lime and other chemical dosing
pH correction
Flocculant dosing
Odour control
Dosing of all types of additives, inks and other fluids
(Pictured left) A dura dosing system onsite, mounted on an IBC dosing lime chemical. This application featured the dosing of lime into the waste water from a fish farm. As the fish excrete and the water becomes more toxic, the levels of BOD and COD are too high for discharge to the water course.
Click here to read to more about the dosing system and lime handling
Click here to read our case study on fisheries
Click here to download the brochure for the mini-dosing system
Feature & Options
The system comes as a set; a packaged dosing rig and mixer system contained in a compact, lightweight and mountable frame.
The dosing rig
The dosing unit is assembled inside a PE UV resistant frame with bund/spill catch base. The frame can be free standing or hooked onto a standard IBC. The fluid is dosed using a Verderflex Dura peristaltic pump, which is controlled via a probe and analytic meter with an inverter to regulate the dosing rate. Power is supplied by simple plug-in 3 phase power.
A dosing rig featuring a digital solenoid metering pump is also available for such chemicals as ferric and sodium hydroxide.
The mixing unit
The mixing unit is a frame-mounted dynamic mixer/agitator with collapsible blades. The frame sits on top of any standard IBC, with the shaft easily placed through the top port. The mixer is powered through the electrical distribution on the dosing frame.
System options
The dosing units can be scaled from 1l/h < to 130l/h. In addition to the pH meter, the unit may be operated with a flow meter, pulsation dampener or batch counter. The Verderflex Dura pump may be specified with different wet-side materials for chemical compatibility.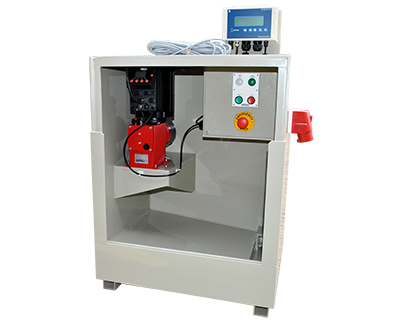 For dosing operations in external environments our systems are available with a purpose-built housing. The housing is available for both the dosing systems and for the IBC of chemical and provides protection against temperature, adverse weather conditions and wildlife. The housing provides a stable environment for temperature-sensitive chemicals such as sodium hydroxide.
UV-resistant enclosure
Roller shutters with padlock bracket
Forklift points
Spill bund area with removable grating floor
Rigid design supported by internal supports
Trace heating element
Electrical distribution controls
Ventilation points and extraction fan
Thermostat control
Inlet/Outlet ports for power and fluid